"I thought I knew everything there was to know about water, but I didn't know water was everywhere!" proclaimed a 6th grade student during their final presentation to community members after a month-long unit on stormwater. This student was one of almost 300 students from Maltby Intermediate School in Brighton, Michigan that were part of a collaborative pilot effort between the Great Lakes Stewardship Initiative (GLSI), SEMIS, Mi-STAR facilitators and teachers to strengthen this unit with place-based education (PBE). SEMIS was excited to be a part of this effort to better understand this Michigan-based science curriculum and help support teachers new to PBE and rejuvenate their teaching, especially during such a challenging year. We are also truly grateful to have benefitted from this effort, which was made possible through a generous grant from the MiSTEM Advisory Council and MiSTEM Region 2.
I began meeting with this fantastic team of five Maltby 6th-grade teachers and Joan Ancona, a Mi-STAR professional learning facilitator in January to both provide ideas for infusing PBE into the lessons and help plan a stewardship action project for the end of the unit. Although most of the teachers had taught the unit before, many of them had skipped the portion of the first lesson that included a Water Scavenger Hunt of their school campus due to scheduling and time constraints. We did not skip it this time and the teachers absolutely loved this opportunity to gather students' observations on where they could find water around the school and the many questions this developed. Teachers told me that they found this experience extremely valuable during the rest of the unit to help students connect with what they were learning about water molecules and what was happening in their local place. Students were surprised by how much trash they found during their investigations and decided to set up a schedule between the 10 classes to keep the area cleaner for the remainder of the school year by collecting trash and keeping track of how much and what kind of trash was collected.
Another addition to the unit was connections to community partners and students had the opportunity to bring some of these questions to Jason Frenzel from the Huron Clinton Watershed Council and Bernie Gianotta from Clark Construction who was working on a new building adjacent to the school. Students had a lot of questions after the water scavenger hunt including: "If serious flooding occurred around Maltby, how would that be taken care of?", "What is the most frustrating part about protecting our waterways?" and "How does water get around the buildings?" They were able to ask many of these questions to Jason and Bernie and will hopefully be the start of more communication with community partners in the future.
After considering many action projects from creating PSAs (Public Service Announcements) about the local watershed to planting a pollinator garden, the teachers decided to plant trees on campus in order to reduce stormwater runoff by capturing and storing rainfall in their canopy and releasing water into the atmosphere as well as promoting infiltration of rainwater into the soil through their roots. Each of the ten classes planted a tree in front of their school providing beautification, shade and stormwater mitigation for Maltby Intermediate School for years to come. Students had the opportunity to present what they had learned to several school guests and community members and were proud of both how much they had learned and the addition of the trees to their school campus.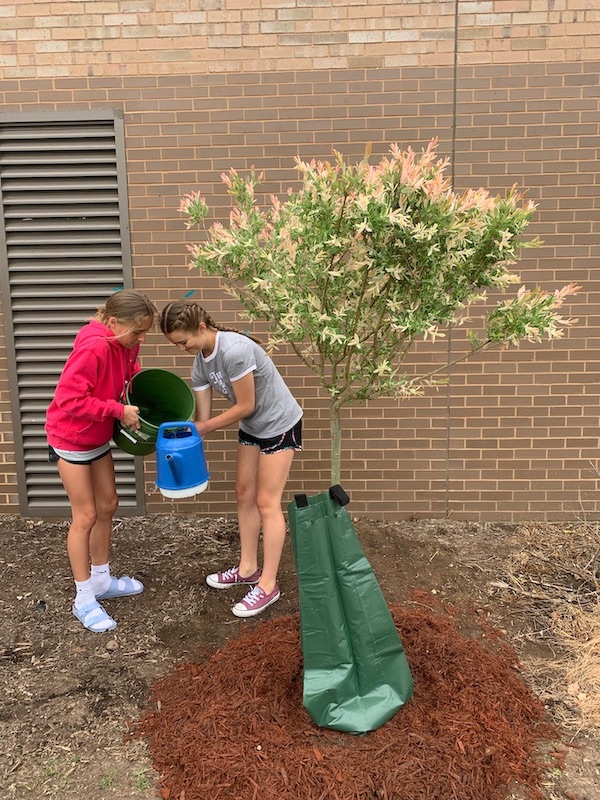 Image Description: Two Maltby 6th grade students pour water from a bucket into a watering can. They are standing next to a newly planted tree with a green water bag.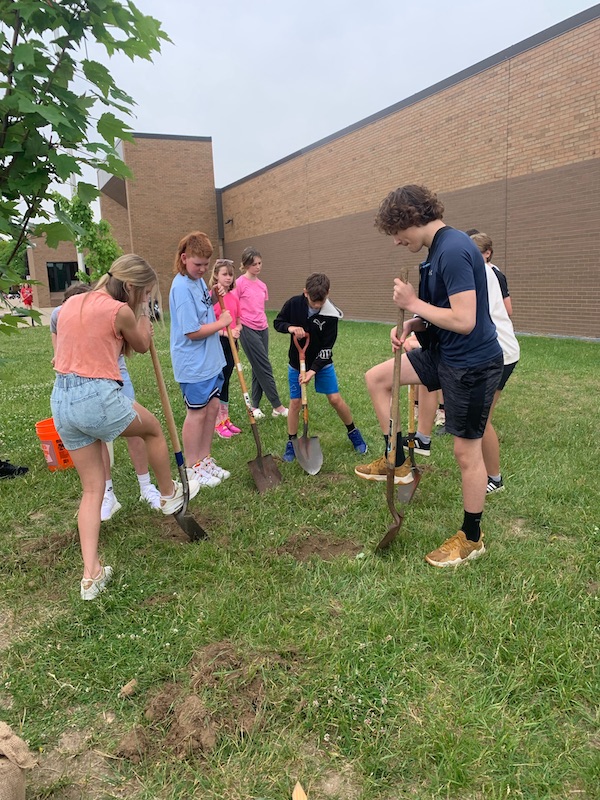 Image Description: Several Maltby students are using shovels to dig a hole to plant a tree. They are removing the layer of sod first in a circle. The tree is next to them.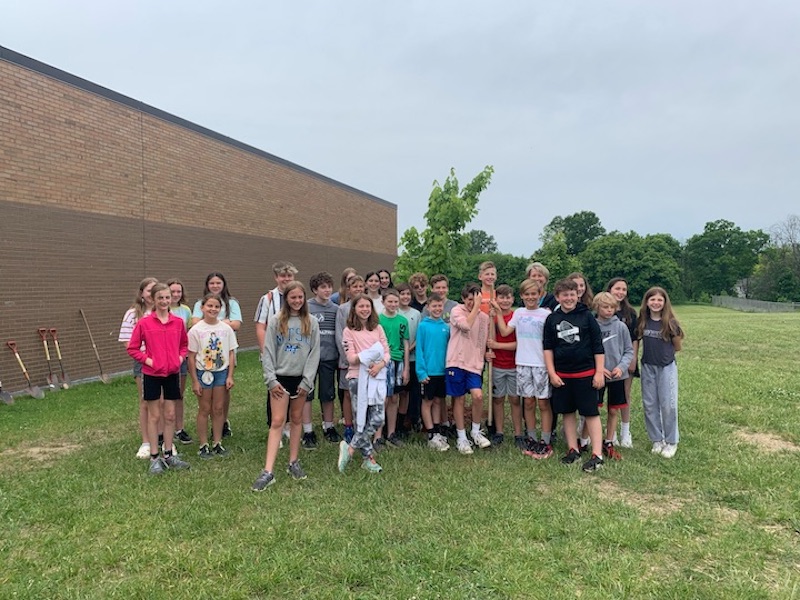 Image Description: A Maltby 6th grade class of students stands in front of a newly planted tree in front of the school. Several students are holding tools and there are also some shovels lined up against the wall of the brick school.