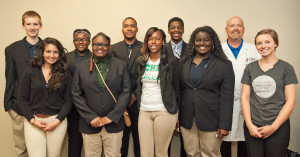 Students from Detroit Institute of Technology at CODY High School co-authored an article for the 2016 summer issue of Green Teacher Magazine, titled Fostering Youth Leadership in Urban Place-based Education. This inter-generational collaboration challenged us to represent the voices and shared experiences of many individuals. Chad Segrist, STEM Coordinator and Science teacher at DIT began a youth leadership program in school during the 2014-15 school year, The Cody Youth Ambassadors. This article shares stories of youth leadership and experiences of youth voice–a notion that is sometimes hard to pin down. Here is a snippet:
"IN PLACE-BASED EDUCATION (PBE), youth have the opportunity to shape their realities and determine the course of their learning as they build their capacities as community leaders. Our team of Youth Ambassador students and teachers at the Detroit Institute of Technology (DIT) at Cody H.S., work together with staff from the Southeast Michigan Stewardship Coalition to build community and infuse place-based education into the school curriculum. Students are engaged in a number of leadership roles as they engage with the community to identify its needs. They help decide the direction of class projects, mentor new students, and co-facilitate stewardship activities with adults."
Green Teacher Magazine is a fantastic publication–filled with resources both practical and meaningful! We encourage you to subscribe!
Throughout this project we have co-developed and adapted various resources to use and to share. Below are links and PDF files we want to share with others. Please leave comments and questions! Please also visit our Walk in the Park post featuring curricular resources used with DIT ninth grade students throughout the 2015-16 school year.
Environmental Citizen_Directions and Script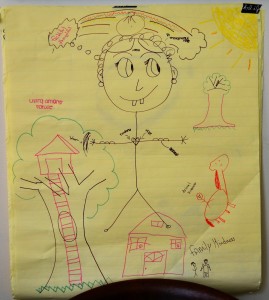 Environmental Citizen Activity: In fall of 2015 the Youth Ambassadors helped to plan and facilitate the first park visit for the ninth grade class. Included in the introduction to our Walk in the Park unit was the Environmental Citizen activity created by Earth Force. This resource is an adapted and scripted document for both students and teachers to use with small groups. We highly recommend the Earth Force Process resources as a classroom tool for powerful learning!
Youth Ambassador Training_Kianna Harris
Cody Youth Ambassadors created a training slideshow for new incoming youth ambassadors-in-training. The YAs used this slideshow to highlight important aspects of what it means to become a youth ambassador and what skills and characteristics one would want to develop in order to engage in positive youth leadership. This slide show was created by Kianna Harris, 11th grader at the time and Aniya Roundtree, 11th grader at the time.
Expressive Writing Tips Posters
Expressive Writing
Simple materials to assist in expressive writing and editing. We used these materials in a small group style, 3-4 students to enhance our writing and expression of voice through the written word.
Poetry Integration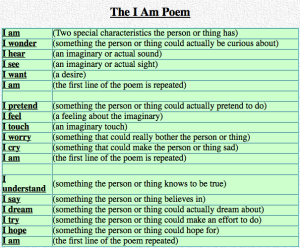 "I Am" Poem, The Cody Youth Ambassadors who helped author this article decided they wanted to modify this style of poem to be expressed through a "we" perspective. They wanted to use the poem to creatively express (and explain) who the Cody Youth Ambassadors are, and who they strive to be. Their original poem and the template we used can be found here.
Below you will find the Brave New Voices poetry performances referenced in the article. The YAs were giving a presentation soon, and when we found these videos they were just what we needed to motivate ourselves to be creative in our preparations. The students wanted to share who they are in a "not-boring" way. We had a conversation about spoken word poetry, and then we watched these. This style of expression and depth of content moved us, and also led to an important discussion. Using spoken word poetry was powerful, and allowed us to bond, even if for only a few minutes. Students appreciate relevance and learning in ways that connect them to their experiences and contextualize these experiences for them.
Shots Fired! (*emotionally intense) 
Somewhere in America (*explicit language)
Brave New Voices 2014 Poems: "Created and produced by Youth Speaks, Brave New Voices is the nation's first youth-centric poetry slam, and is the largest most diverse ongoing spoken word event in the world. Brave New Voices 2014 features over 500 Teen Poetry Slam Champions from 50 parts of the country and 5 additional cities from across the globe, representing over 50,000 young poets in their local communities. These young writers are a diverse, creative, intelligent group of trendsetting community and cultural leaders. They come to Brave New Voices each year not only to compete, but also to attend world-class workshops led by renowned poets and writers, participate in youth development programs, and highlight the voices of a new generation of leadership."  http://youthspeaks.org/bravenewvoices/