During the Winter Professional Learning of 2021, Ethan Lowenstein, Director of SEMIS Coalition, gave a beautiful and hopeful speech addressing the challenges we have experienced lately. People in global, national, and local communities have faced a frightening pandemic, and, without a doubt, educators and youth are directly affected. Despite being tired, we continue to maintain our strength through these collective professional learning gatherings to continue to transform society through community-based education. To continue moving forward in obscure times, Lowenstein said that "we must refuse to go back to normal, and our key is informed civic engagement."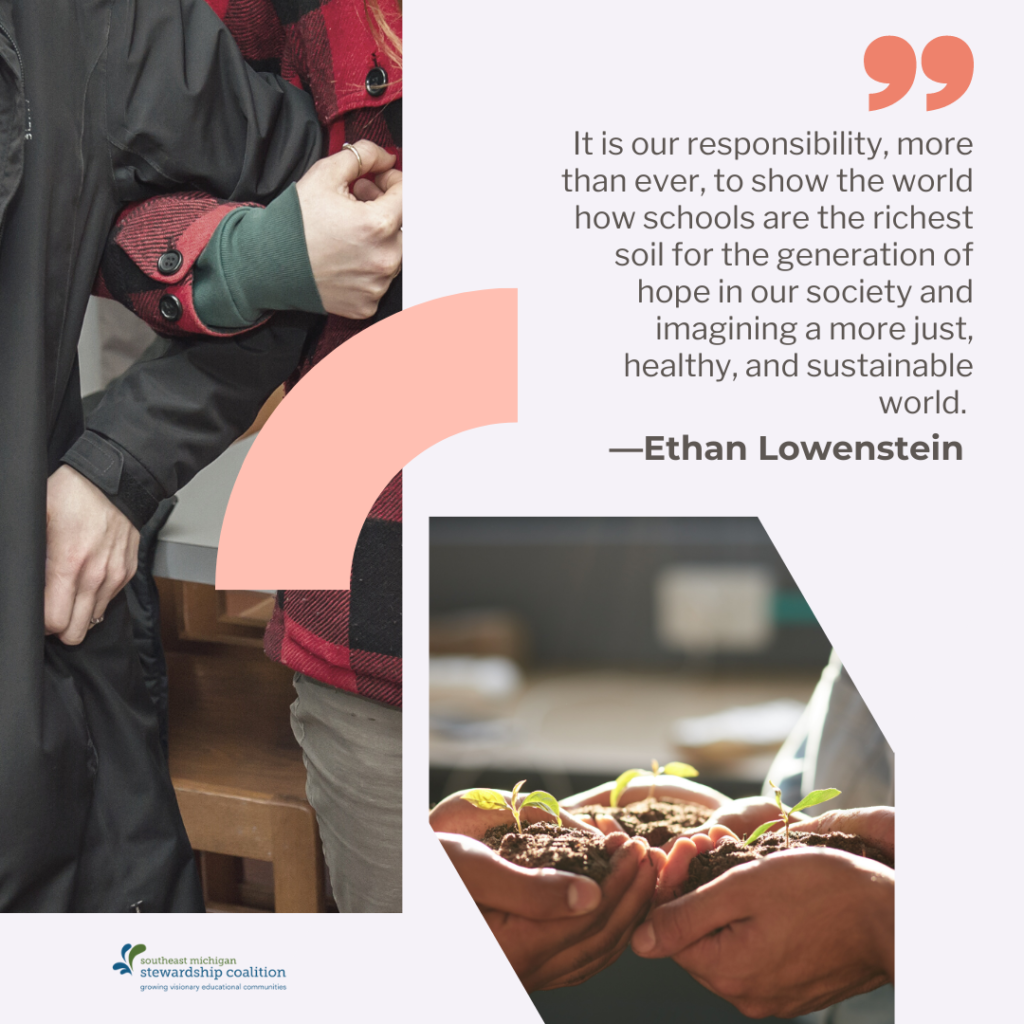 Educators were asked to share powerful moments in which the youth had expressed their voices in place-based teaching and learning. As we will see in the next lines, students often show that they have answers to the problems they face in their schools and communities alike. This happens because when they are deeply listened to and have safe spaces to share their voices, civic engagement takes place. Most of the comments shared by teachers and community partners revolved around examples of youth advocating for their ideas and plans, such as talking to school boards, district grounds departments, government officials, activists, and other people in power positions.
To exemplify, a group of middle schoolers presented to the Ann Arbor Environmental Commission alternative solutions of how to manage the methane that comes off the city-owned landfill. The students recommended the use of a robot that would sniff methane. According to a community partner, the committee members were impressed, and the students' actions resonated with them for years. The partnership with the Huron River Watershed Council in Ann Arbor also allowed a local county commissioner, who is currently a state representative, to come to the school to listen to an elementary class, in another school, to show erosion monitoring in a local creek. The students certainly felt that their concerns were being taken into account, and today, they are all leading and talking about environmental issues in their high schools.
Other specific instances of civic engagement are regarding the dialogue between youth and people in power. The first example is the example brought up by a teacher of grades 6-8 in Detroit. It was about a group of students who facilitated panel discussions with government officials and activists in Detroit to ask questions about the government's role regarding who is excluded from public policies. The principal of this same school mentioned a student who asked a sincere question to Governor Whitmer's Education Secretary to understand if college was a scam to get people into debt. In addition to seeking to understand the state's role, another group of youth, with the help of Youth Energy Squad, a community partner in Detroit, reached out to the local water district to require a free water testing program for residents in the county as they were concerned with the problem of inaccessibility to water analysis.
Youth are also concerned about the structure and environmental sustainability of their schools. A teacher of grades 3-5 in Ypsilanti Community Schools (YCS) helped her students evaluate and create solutions for the safety of a play structure on the playground to afterward present to school leaders. Further, in Ypsilanti, a high school teacher had a powerful moment when students engaged in place-based education (PBE) to design, fundraise, build, and plant a community garden on their school campus. Another group of students talked about the possibility of creating a school website to emphasize sustainability projects, said a teacher of grades 3-5 of Detroit.
In addition to government officials and school administrators, students also took action by talking to community leaders. An YCS teacher of grades 3-5 shared a case about youth who interviewed several community leaders about areas of concern for them. Youth also recognized those who work in their communities. An instructional coach for K-12 Math and Science in YCS said two-year veteran SEMIS students had an idea to support frontline workers during the pandemic. They created a Thank You Card and Poster campaign for essential grocery store workers in June 2020.
By pronouncing their words and feeling that their voices were heard, the youth got more determined to become involved in civic engagement. SEMIS and PBE educators believe that teaching for social and environmental justice must have an action component. Otherwise, youth will not feel confident and may think that their voices do not matter. In her book "Reframing the Curriculum: Design for Social Justice and Sustainability," Susan Santone, for instance, noted that education for sustainable development and social justice has to value participation and student life experiences to foster youth to imagine and work towards an equitable future. To sum up, as Lowenstein stated for the participants of the Winter Professional Learning: "We have always had hope and helped our youth have hope. Now it is our responsibility, more than ever, to show the world how schools are the richest soil for the generation of hope in our society and imagining a more just, healthy, and sustainable world." Certainly, to achieve this beautiful world, educators must work together, side by side, with youth in their communities.