By Bill Boyle
Day 2 started with Ethan Lowenstein introducing the Coalition norms for being in community.  These norms are a means of ensuring that as relational beings, we create a space that allows us to bring out the best in each other.
The SEMIS norms are:
*Speak generously
*Speak your own truth. ("I" statements)
*Keep an open mind
*Take care of your own needs
Ethan also talked about the SEMIS markers for what we call "Place Based Education." That is, in order to be called "place based," we look for 3 characteristics of our learning experiences- student driven inquiry, deep connection to place, and civic engagement.
From there the morning moved into a discussion that we called, "Consumerism vs. the Commons." The purpose of this was to allow us to see the dominant Western narrative of consumerism and the market as a story that we live within, and what our place within that story might be. Bill Boyle shared the story of his education as one that took him away from community.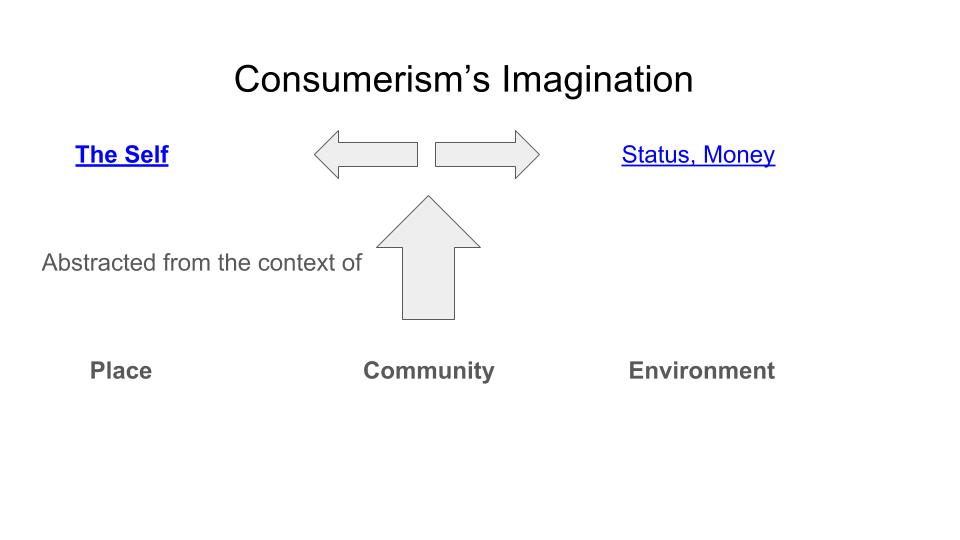 Bill and Ethan then led a discussion that explored the ways in which the dominant story, with its language of consumerism functions, vs. the language of the commons, which led to some wonderful thinking, a couple examples of which are:
"Put a comma between Consumerism and The Commons. I think if we took the labels off the words and organized them ourselves we would put some of them in different categories," June Clora.
"Is there a middle ground between consumerism and the commons?" Lute 
Next, Ethan explained the developing relationship between SEMIS and Detroit Public Television. This relationship has led to a DPTV grant that will allow for the means to create stories around Place Based Education and environmental stewardship. As part of this important relationship, Andrea Morningstar from DPTV, shared interviewing techniques as way of helping us to tell our stories and to build relational connections.  Andrea shared her realization that interviewing is a way for her to create community throughout her life. We then watched some previously developed DPTV videos, asking the questions: What story is being told? What story is not being told? Who benefits from this story? Who is harmed by this story?
So what to do with all of this? How does this apply to our everyday lives, and our work with students in the classrooms? These are questions that will continue to be explored, but some answers were pointed to in the video, How the Kids Saved the Parks.
After lunch, Morgan Lantz from  Escuela Avancemos shared her own "how the kids saved the park" story. It was an inspirational story of how Morgan is helping her students to make an impact in their own neighborhood through the creation of a student owned community gardens. Morgan's students will be in Detroit's City Hall to read their letters to Mayor Mike Duggan on Friday!
The rest of the afternoon was spent on concurrent workshops from 3 of SEMIS community partners.
Sarah Halson, a SEMIS Curriculum Coach, and Jan Sneddon, of Earth Force, presented the Earth Force process. Earth Force is a powerful non-profit that works to engage youth in solving the problems of our environment. The story that Morgan told (above) came as a result of her involvement with Earth Force.
Katie Larson and Khalil Ligon presented the Adopt a Beach program of the Alliance for the Great Lakes. This is a non-profit that works to restore and maintain the Great Lakes specifically. Katie and Khalil led a discussion that was designed to help teachers show kids the connections between what they might see on a beach. From there, teachers can help students make the connections between some of these found items, and the effect that human, land based activities can have on water health.
Rebecca Nielsen, here representing the Michigan Environmental Education Curriculum Support (MEECS), led an engaging dialogue that helped us make connections between resources use on the land, and how this impacts the water. She showed concrete activities that make this come alive in the classroom.
More to come. Stay tuned for Day Three!