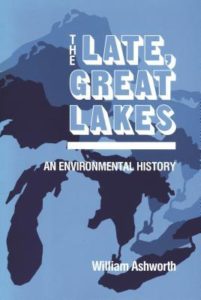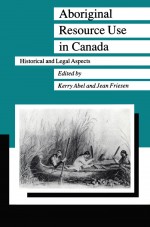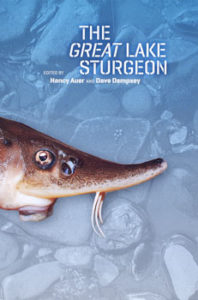 This reading list was compiled by historian Matt Siegfried.
Great Lakes Sturgeon Readings
Abel, Kerry M., and Jean Friesen. Aboriginal Resource Use in Canada: Historical and Legal Aspects. Winnipeg, Man.: University of Manitoba Press, 1991.
Ashworth, William. The Late, Great Lakes: An Environmental History. New York: Knopf, 1986.
Nancy Auer, and Dempsey, Dave. The Great Lake Sturgeon. Michigan State University Press, 2013.
Bogue, Margaret Beattie. Fishing the Great Lakes: An Environmental History, 1783-1933. Madison, WI: U of Wisconsin, 2000.
Cohen, Joshua G., Bradford S. Slaughter, Michael A. Kost, and Dennis A. Albert. A Field Guide to the Natural Communities of Michigan, Lansing, Michigan State University, 2014.
Dann, Shari L., and Brandon C. Schroeder. The Life of the Lakes: A Guide to the Great Lakes Fishery. Ann Arbor, MI: Michigan Sea Grant College Program, 2003.
Doherty, Robert. Disputed Waters: Native Americans and the Great Lakes Fishery. Lexington: University Press of Kentucky, 1990.
Grady, Wayne, Bruce M. Litteljohn, and Emily S. Damstra. The Great Lakes: The Natural History of a Changing Region. Vancouver: Greystone Books, 2007.
Harkness, William John Knox. The lake sturgeon; the history of its fishery and problems of conservation. Toronto: Fish & Wildlife Branch, Ontario Dept. of Lands and Forests, 1961.
Holtgren, Marty. Ogren, Stephanie, and Whyte, Kyle. "Renewing relatives: one tribe's efforts to bring back an ancient fish". Earth Island Journal. 30(3):54, Autumn, 2015.
Kerr, S. J. Atlas of Lake Sturgeon Waters in Ontario. Peterborough, Ont.: Ministry, 2002.
Kline, Kathleen Schmitt., Ronald M. Bruch, and Frederick P. Binkowski. People of the Sturgeon: Wisconsin's Love Affair with an Ancient Fish. Madison, WI: Wisconsin Historical Society Press, 2009.
LeBreton, Greg T. O., and R. Scott. McKinley. Sturgeons and Paddlefish of North America. Dordrecht: Kluwer Academic, 2004.
Little River Band of Ottawa Indians. Manistee Nme: a lake sturgeon success story [videorecording] www.LRBOI.gov, 2012.
Pollock, Michael S. "Review of a species in peril: what we do not know about lake sturgeon may kill them." Environmental Reviews 23(1):30-43, February 2015.
Riley, John L. The Once and Future Great Lakes Country: An Ecological History, McGill-Queen's University Press, 2013.
Simon, Thomas P., Stewart, Paul M., ed. Coastal Wetlands of the Laurentian Great Lakes: Health, Habitat and Indicators. Bloomington, IN : AuthorHouse, 2006.
Taylor, William W., Abigail J. Lynch, and Nancy J. Leonard. Great Lakes Fisheries Policy & Management: A Binational Perspective. East Lansing: Michigan State UP, 2013.
Winkle, Webster Van. Biology, Management, and Protection of North American Sturgeon. Bethesda, MD: American Fisheries Society, 2002.