GATHERINGS & EVENTS
Come together to learn about EcoJustice and Place-Based Learning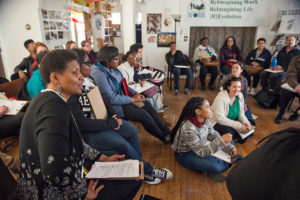 As part of an annual nine day professional development series, the SEMIS Coalition hosts, sponsors and/or participates in several conferences related to our core mission.
Ecojustice and Activism Conference
Where: Eastern Michigan University, Ypsilanti, MI
When: March 17-19, 2016
Website: ecojusticeconference.weebly.com
The SEMIS Coalition is a sponsor and participant of EMU's Annual EcoJustice and Activism Conference, with the theme of Reclaiming the Commons: Diverse Ways of Being and Knowing aims to engage discussions about the importance of the vastly diverse commons practices, their relations and their histories across the plane. Our March PD Day is held on the Friday of the conference.  The EcoJustice and Activism Conference is committed to engaging activists, educators, students, and scholars in deep and meaningful discussion around what we can do together to address and organize actions aimed at alleviating and/or eliminating current social and environmental injustices occurring in our local, national, and international communities.  With a focus on responsibilities, connections, and critical questions regarding social and ecological justice, democracy, and sustainability, we are especially interested in how we learn from the land, oceans, lakes, rivers, animals, plants, and each other—all the living and non-living members sharing our communities. We welcome a wide range of critical perspectives from within scholarly and activist traditions and groups.
Check out Leisa Thompson's images from the 2016 EJA Pre-Conference Bus Tour!
SEMIS Coalition Community Forum
Where: Eastern Michigan University, Student Center
When: May 24, 2016, 9:30AM-2:15PM
Website: www.facebook.com/semiscoalition
The SEMIS Community Forum provides intergenerational sharing across regions, schools and disciplines, introducing over 100 students, teachers and guests to culminating work from the year. Check out Leisa Thompson's images from the event here!
2016 presentations included:
Amy Lazarowicz, Chris Burke, and Neinas elementary school 3rd – 5th grade students presented on how they went from working in silos to coming together as a community to create a new vision for this neighborhood space that had been blighted for over 12 years! Through school and community engagement this group worked to create a vision for their Southwest Community and turned three burned and empty lots turned into hope for the future.
Lindsay Hershberger and Ypsilanti Community High School 9th grade students presented on designing and constructing water filtration devices. After collecting water samples from Lillie Park in Ann Arbor, students worked to design and construct water filtration devices. The goal of the project was to use water filtration to reduce human impact on the environment. Students utilized the engineering process, making multiple iterations to produce the best filter possible.
Morgan Lantz and her 5th grade students at Escuela Avancemos have been working with local Entrepreneurs in Detroit to gain a greater understanding of how to turn a classroom garden into an environmentally friendly small business. Through their experience with local businesses and city officials in Detroit, they have discovered the steps necessary to create a business and to become environmental leaders in Detroit.
SEMIS Community Forum Program_2016
SEMIS Coalition Summer Institute
Where:  Eastern Michigan University and locations throughout Southeast Michigan
When:  June 20-23, 2016
Website:   www.facebook.com/semiscoalition
Each year, we design our annual Summer Institute around an ecological theme, creating a common language for engaging in deep cultural-ecological analysis, project planning, and community inquiry and action.  This year, join us for meaningful educational watershed experiences and get your hands wet! We'll spend time in the field and at the EMU Student Center learning and planning for the upcoming 2016-17 school year.
Great Lakes Stewardship Initiative Place-Based Education Conference
Where: Grand Valley State University, Grand Rapids, MI
When:  TBA
Website: www.glstewardship.org/About/Conference.aspx
The Great Lakes Place-Based Education Conference brings together practitioners and teachers from formal and non-formal education, local partners from communities across the region, and staff of other organizations, all of whom provide vital leadership and resources to the cause of developing environmental stewards of the Great Lakes and its ecosystems.  SEMIS Coalition students and teachers have presented at this conference in the past.
"SEMIS challenges me to think about ways to anchor my curriculum, meaningfully, to places in students' lives."
You can support place-based learning by volunteering at an upcoming event!