It is a pure delight to share my experience at the 2022 SEMIS Coalition Community Forum held at Bob's Lake House on the campus of Eastern Michigan University. Before I go any further with how wonderful the day was, please allow me to introduce myself. I am Audra D. Carson, a SEMIS Community Partner and Chief Beautification Strategist of Izzie LLC, a Detroit-based woman-led Environmental Justice and Sustainability Services Company. I am grateful to co-create the healing of school campuses while uplifting student voice and the interconnectedness of schools and neighboring communities through climate change resilience work.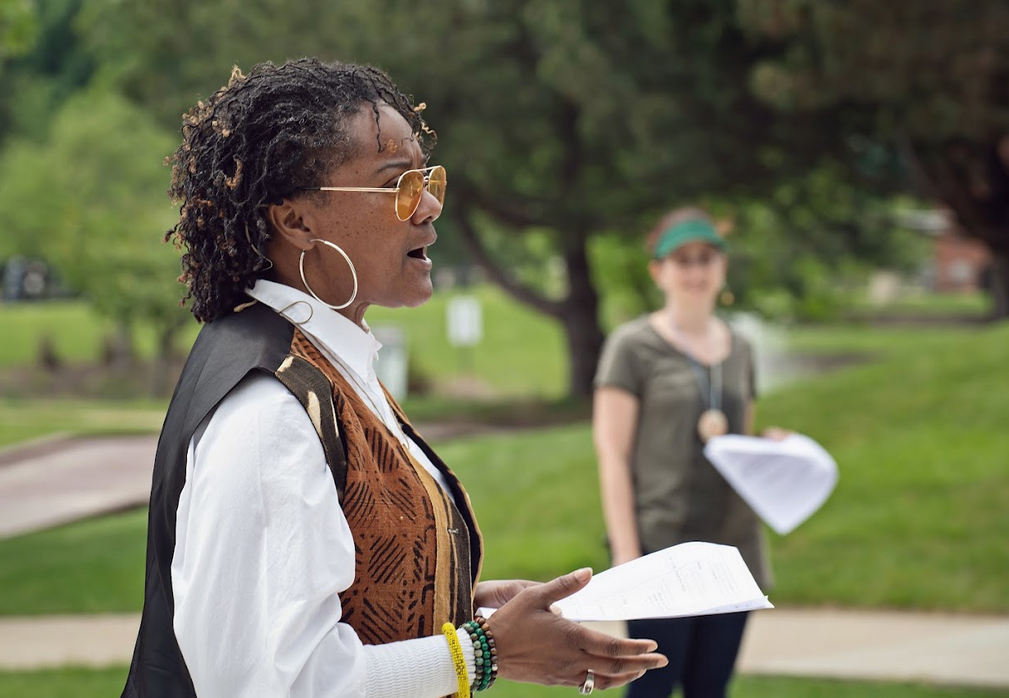 Audra Carson leads an inter-generational dialogue at the SEMIS Coalition 2022 Community Forum, on May 16th. These conversations are a tradition at our annual Forums, and prove to be one of the most rewarding parts of the event. In this image, Ms. Carson is inviting the crowd to think about what it means to heal together, and raise up the voices of young people; that their wisdom is incredible, but that they deserve support, honesty, and determination from the adult guides in their lives.
On the morning of May 16, 2022, upon leaving Detroit for Ypsilanti, I had a small dose of anxiety due to the dismal overcast skies. Yet arriving on the campus of EMU and at the Lakehouse instantaneously lifted my spirits. As someone who derives positive energy from social interaction, I believe "hyped" would best describe my overall mood. Over 250 people registered for the event! Members of MISTEM, the Michigan Department of Education, the youth creators, and participants of Humans of Ypsi – a legacy keeper's project featuring school staff were there. In addition, professors and teachers-in-training from the EMU College of Education and SEMIS staff are circulating and learning from young people. Teachers, parents, and our students were present after a two-year hiatus due to the pandemic, and it was an incredible source of pleasant vibes. The convergence of all the beautiful people allowed our students from the region to present and view their peers' imaginative and socially relevant climate change projects. The engagement and affirmations received from adults and other students build student confidence and challenge the norms of what leadership can be. Innovative ideas with a focus on our human interconnectedness followed by action have the potential to provide climate change solutions for generations to come.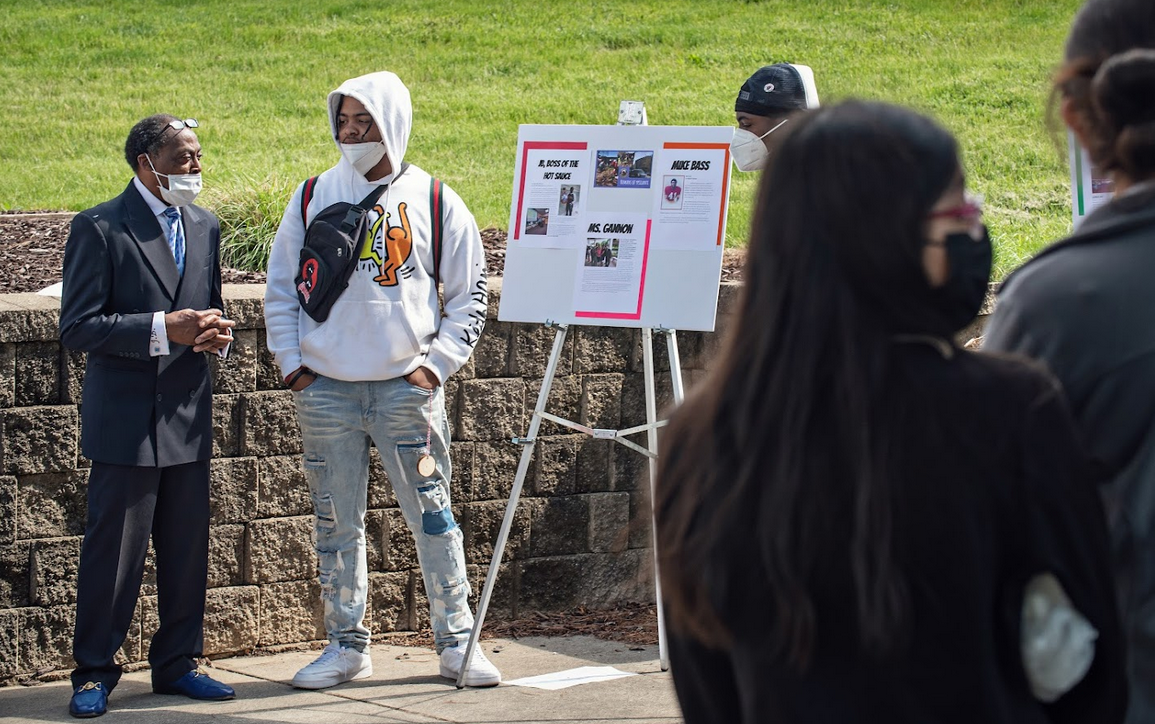 ACCE high School Students and staff member, James Brewer,

in front of their Humans Of Ypsilanti project at the SEMIS Community Forum in May of 2022.
I have a few personal highlights from this special day. Mother Nature cooperated majorly. The rain held off, and the weather became increasingly beautiful as the day progressed. The visuals of the student projects set up indoors and around the pond's perimeter were unique. The robust expression of student excellence in climate change solutions ranged from municipal stormwater infrastructure/ river quality assessment, agriculture, and interactive learning to an educational and entertaining theatrical performance. We are in a once-per-generation and arguably once-in-a-lifetime space of opportunity to impart change in education. We held the intergenerational dialogue for attendees to take time to reimagine what school and education could look like; it was moving and powerful. The students were so caring, kind, and thoughtful, as the great majority of the comments from the students uplifted the work and projects of the other students.
Lastly, receiving a SEMIS Coalition 2022 Powerful Place-based Partnership award alongside many other beautiful souls and co-facilitating the intergenerational conversation with the brilliant Miriam F. Brighente are experiences that will remain tattooed on my heart.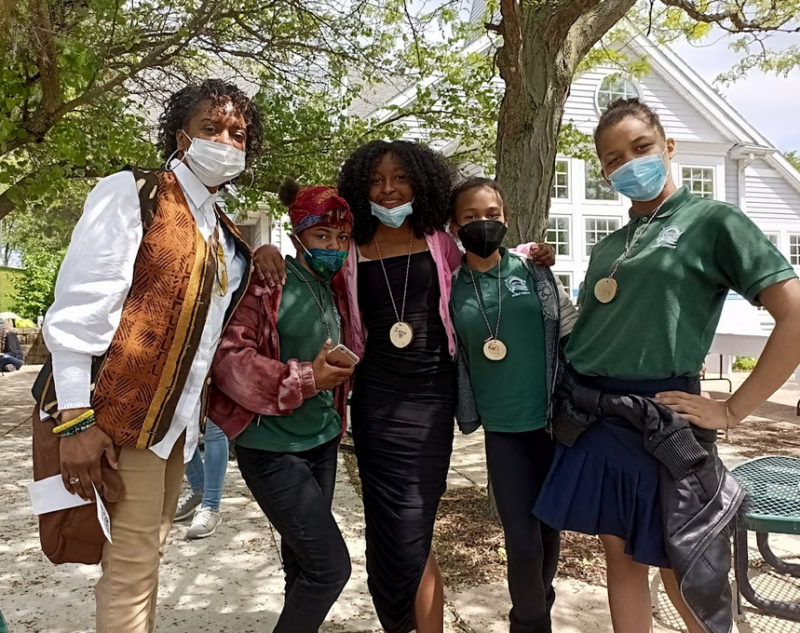 Left: Audra Carson is pictured with a group of young people at the 2022 Community Forum.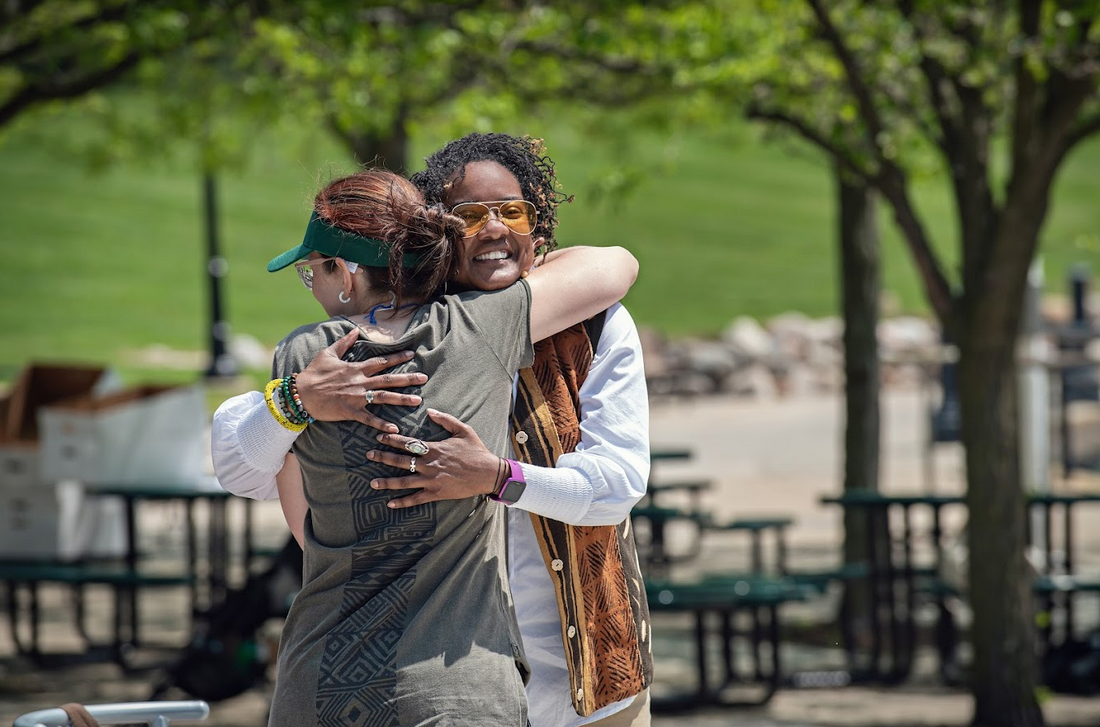 Above: Audra and Miriam Furlan Brighente share a hug after leading the Coalition inter-generational dialogue at the 2022 Community Forum.
The SEMIS Community Forum is essential as we move forward, coming out of two years of unprecedented challenges, pitfalls, and stress in education for parents, teachers, and students. It is imperative to provide a safe space for students to learn, teach and expand and the Community Forum continues to provide this. Attendees reimagined our collective place-based educational future that is inclusive of diverse learning styles while offering spaces for mental health and healing. At a time in history when intolerance seems to be increasing rapidly, witnessing students express their appreciation of the humanity and brilliance in each other left me emotionally complete, encouraged, and assured that our future is in great hands. Well done, SEMIS Coalition and students from across the region!
Audra D. Carson, Chief Beautification Strategist/Owner of Izzie LLC