MEMBER DIRECTORY
Partners in environmental stewardship, education and the community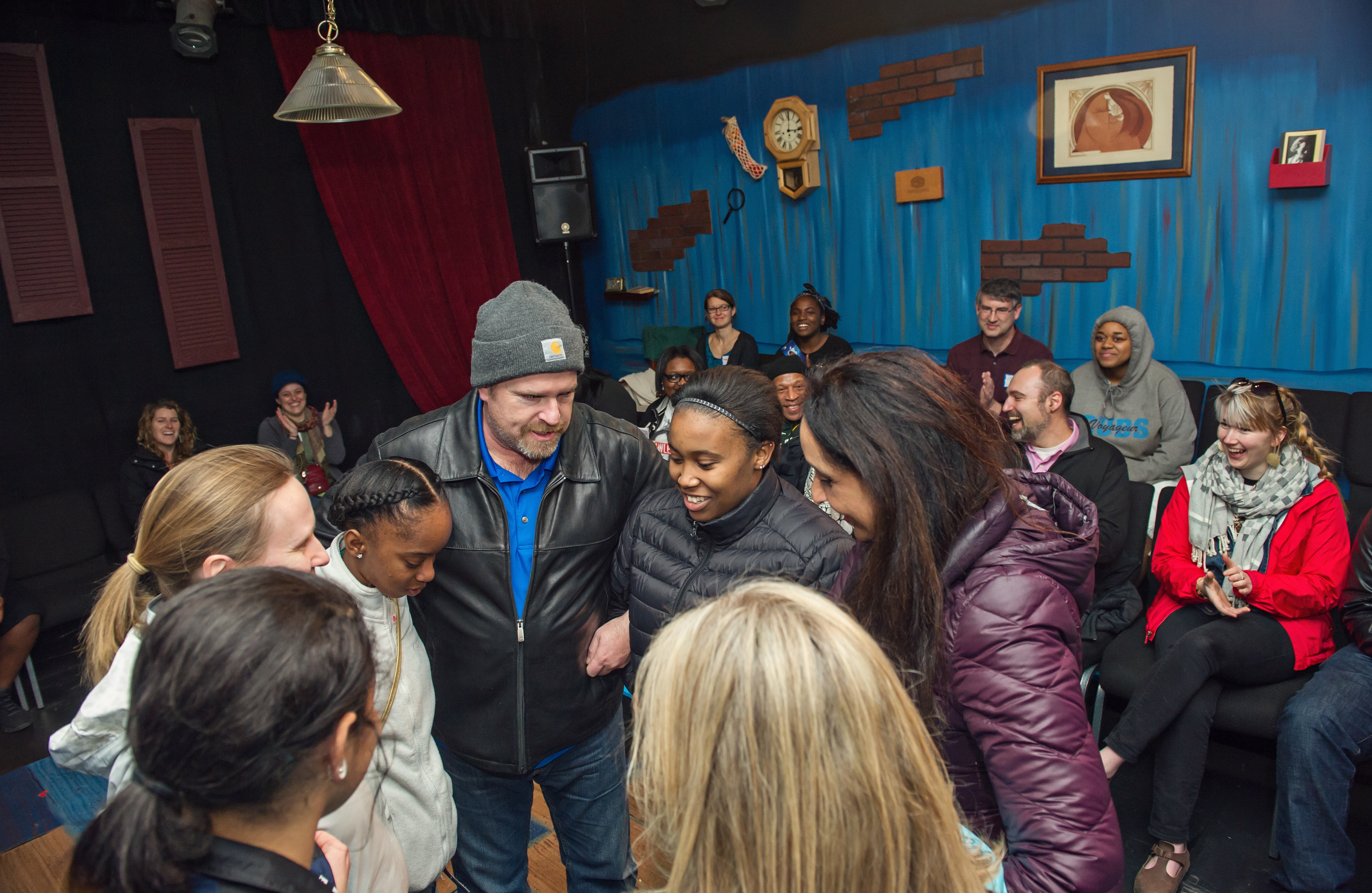 The Southeast Michigan Education Coalition (SEMIS Coalition) is fundamentally about making connections and building bridges. We coordinate relationships between k12 schools and districts, government agencies, environmental and grassroots organizations, researchers, universities and area businesses.
Browse the Partner and Member Directory
Current Schools Represented
ANN ARBOR PUBLIC SCHOOLS (AAPS)
The mission of the Ann Arbor Public Schools is to ensure each student
realizes his or her aspirations while advancing the common good,
by creating a world-class system of innovative teaching and learning.
THE JAMES AND GRACE LEE BOGGS SCHOOL, DETROIT
The mission of the Boggs School is to nurture creative, critical thinkers
who contribute to the well-being of their communities.
DETROIT PUBLIC SCHOOLS COMMUNITY DISTRICT (DPSCD)
The mission of Detroit Community Schools is to awaken students' highest aspirations and develop the capabilities they need to lead purposeful and productive lives. They believe that all students should be prepared to enter college, pursue a career or engage in other forms of meaningful work in our ever-changing global society. They offer a rigorous educational program that integrates academic, artistic, and experiential learning within a supportive community characterized by encouragement, collaboration, and mutual respect.
DPSCD, CLIPPERT MULTICULTURAL MAGNET HONORS ACADEMY 
DPSCD, FREDERICK DOUGLAS YOUNG MEN'S PREPARATORY ACADEMY 
DPSCD, JOHN R. KING ACADEMIC AND PERFORMING ARTS ACADEMY
DPSCD, NEINAS DUAL LANGUAGE LEARNING ACADEMY
EARLY COLLEGE ALLIANCE, EASTERN MICHIGAN UNIVERSITY in PARTNERSHIP WITH LOCAL SCHOOL DISTRICTS AND WASHTENAW INTERMEDIATE SCHOOL DISTRICTS
The Early College Alliance (ECA) is a unique educational program designed to fully immerse high school-aged students into the post-secondary learning environment. ECA is a public, early/middle college program located on the campus of Eastern Michigan University. It exists in partnership with local school districts, including the Washtenaw Intermediate School District.
JOHN PAUL II ELEMENTARY CATHOLIC SCHOOL
John Paul II Elementary's mission consists of educational opportunities, faith experiences, and extracurricular activities that "strive to create a family environment that promotes Catholic values, academic excellence and stewardship, which will allow each unique child to be a responsible citizen in our ever changing world."
SUMMERS KNOLL SCHOOL
Summers-Knoll School provides a rich academic experience for students from kindergarten through middle school in small, multi-age classes. They learn in an intimate, vibrant school setting and out and about in the world through project-based, hands-on learning. It's a place where bright children progress at their own pace, creative children engage in limitless exploration and gifted children discover their potential.
YPSILANTI COMMUNITY SCHOOLS (YCS)
The vision of YCS is to be the first choice for an exceptional cradle-to-career education.
YCS, ACHIEVING CAREER & COLLEGE EDUCATION (A.C.C.E.) HIGH SCHOOL
Community Partners & Partner Members
Information is gathered from partner websites. You can click on the organization name to find out more information.
ALLIANCE FOR THE GREAT LAKES The Alliance for the Great Lakes works to protect the Great Lakes for today and tomorrow. We involve tens of thousands of people each year in advocacy, volunteering, education, and research to ensure the lakes are healthy and safe for all.
BIRWOOD HOUSE AND COMMUNITY LENS, DETROIT non-profit neighborhood community house since 2016. Sherobbi says her work to nurture a caring community is an extension of her mother's work in the same house as Birwood Block Club secretary in the 1960s. For more information please check out the article from The Detroit Journalism Cooperative.  
COMMUNITY LENS What happens when middle schoolers are given cameras with the goal of going much deeper than taking pictures? Community Lens, which is an initiative that fosters leadership, community engagement, and place-based education endeavored to find out. Kim Sherobbi, a community practitioner and former DPS teacher, is the director of the initiative that is currently in its second year. Learning takes place inside and outside of the classroom. Community Lens operates from Birwood Houses I & II, community houses located on Detroit's westside, and neighboring Noble Middle School. It is an excellent example of place-based education and it is experiencing some wonderful results.
BUHR PARK CHILDRENS WET MEADOW PROJECT The Buhr Park Children's Wet Meadow Project created and supports a group of wet meadow ecosystems in Ann Arbor's Buhr Park. The wet meadows provide a habitat for native plants and animals, an attractive educational site for children, neighbors and other visitors, and an environmental filter for stormwater runoff from the park grounds.
CITY OF DETROIT PARKS AND RECREATION The Detroit Parks & Recreation Department provides recreation and leisure activities for all who live, work and play in Metro Detroit. With 309 parks and 11 recreation centers, DPRD connects communities with parks, programs and facilities to positively impact their health and wellness. Whether it's a family picnic at one of our newly renovated neighborhood parks, taking one of the many classes offered at our recreation centers, or enjoying an outdoor concert at Hart Plaza or Chene Park, we're making it happen! With programs for youth, adults and seniors, DPRD strives to be the premier recreation service provider in Metro Detroit.
CITY OF YPSILANTI SUSTAINABILITY COMMISSION The Sustainability Commission will seek to create a model of sustainability through efforts to advocate, educate and promote the social, economic and environmental health of the community now and into the future. https://www.facebook.com/sustain.ypsi/
CLINTON RIVER WATERSHED COUNCIL The mission of the Clinton River Watershed Council is to protect, enhance, and celebrate the Clinton River, its watershed, and Lake St. Clair.
CREATIVE CHANGE EDUCATIONAL SOLUTIONS Susan Santone started CCES as an organization focused on supporting educators to teach effectively about sustainability and engage youth in curriculum on content specific topics, like food systems, that support inquiry, engagement and action.  Their curriculum resources are tied to standards, and support the Next Generation Science Standards and Common Core, and their resources are available to SEMIS member teachers.
DETROIT OUTDOORS, SIERRA CLUB Fostering connections between youth, community, and nature through leadership training, gear libraries, and access to campgrounds in Detroit.
DETROIT RIVER INTERNATIONAL WILDLIFE REFUGE In 2001, the Detroit River International Wildlife Refuge was established as a result of binational efforts from politicians, conservation leaders, and local communities to build a sustainable future for the Detroit River and western Lake Erie ecosystems.  Because of this collaboration, international status was given to the refuge, making it the first of its kind in North America. The refuge consists of nearly 6,000 acres of unique habitat, including islands, coastal wetlands, marshes, shoals, and waterfront lands within an authorized boundary extending along 48 miles of shoreline.
DETROIT RIVERFRONT CONSERVANCY  The Detroit RiverFront Conservancy (DRFC), a 501(c)(3) organization, is responsible for the establishment, improvement, operation, maintenance, security, programming and expansion of the Detroit RiverWalk and associated green spaces. Through its public/private partnerships, the DRFC will support the development of the riverfront district and facilitate community access to the waterfront.
DISCOVERING PLACE Part of the University Outreach office at the University of Michigan-Flint, Discovering Place works with Flint-area teachers to implement class projects which connect students with their surroundings. These place-based education (PBE) projects are designed around required curriculum to meet a need in the local community or environment.
DNR OUTDOOR ADVENTURE CENTER (OAC), DETROIT Located on Detroit's riverfront in the historic Globe Building, with the Dequindre Cut trail running through its backyard, the Outdoor Adventure Center gives you a taste of Michigan's great outdoors in the heart of the city.
EARTH FORCE Earthforce engages young people as active citizens who improve the environment and their communities, now and in the future. Earth Force trains educators in their curriculum, with the SEMIS essential questions, to help teachers understand ecojustice connections to a civic engagement process.
EASTERN MICHIGAN UNIVERSITY COLLEGE OF EDUCATION & TEACHER EDUCATION Inspire, educate, and prepare professionals to be outstanding educators, leaders, and scholars in urban, global and diverse educational and community settings.
EASTERN MICHIGAN UNIVERSITY'S ENGAGE@EMU OFFICE Engage @ EMU is EMU's primary entry way to enhance, navigate and cultivate collaboration and partnerships between the University and business and community entities. Engage @ EMU initiates and coordinates various business and community-based programs, but its overall intention is to collaborate with University offices and programs and external partners.
EASTERN MICHIGAN UNIVERSITY INSTITUTE FOR THE STUDY OF CHILDREN, COMMUNITIES AND FAMILIES As stated in its mission, EMU-ISCFC "explores contemporary issues and enriches family and community life through the application of scholarly research and practical expertise, innovative projects and leadership in collaborative problem-solving efforts."
ECOWORKS DETROIT, YOUTH ENERGY SQUAD YES, a program of EcoWorks, empowers youth to make their communities more sustainable and become leaders in Michigan's green economy. This group works with schools on energy efficiency projects, in-school, after-school and through-summer job training internships.
THE GREAT LAKES INTEGRATED SCIENCES AND ASSESSMENT CENTER GLISA is one of eleven RISAs, which comprise a national network of centers focused on adaptation to climate change and variability. GLISA integrates information from a wide array of scientific fields, develops collaborations between entities with similar goals, and helps inform decision makers throughout the region with sound science. GLISA offers a unique approach to building climate literacy, long-term sustainability, and facilitating smart decision making across the eight Great Lakes states and the province of Ontario.
GREAT LAKES STEWARDSHIP INITIATIVE GLSI was launched in 2007 to develop knowledgeable and active stewards of the Great Lakes through hands-on learning in the community. GLSI funds regional "hubs," like SEMIS, to support this work in the context of regional educational partner conveners.
GRAND TRAVERSE STEWARDSHIP INITIATIVE & INLAND SEAS EDUCATION ASSOCIATION The Grand Traverse Stewardship Initiative (GTSI) provides leadership and resources to support  place-based education, school-community partnerships, and sustained professional development for teachers. Since 2010, 89 teachers, 113 community partners, and 5,000 students have collaborated on place-based projects. The GTSI is one of nine Great Lakes Stewardship Initiative hubs located throughout Michigan and is hosted by the Inland Seas Education Association.
GREAT LAKES FISHERY TRUST GLFT provides funding to nonprofit organizations, educational institutions, and government agencies to enhance, protect, and rehabilitate Great Lakes fishery resources. Their funding makes the work of the GLSI hubs possible through ten-year grant support.
GREEN LIVING SCIENCE GLS is a non-profit that teaches Detroit's students about recycling and the environment. Students use their learning to bring green living home, to inspire their families, neighborhoods, and city.
HURON CLINTON METROPARKS The Huron-Clinton Metropolitan Authority, a regional park system created in 1940 by the citizens of Southeast Michigan, provides excellent recreational and educational opportunities while serving as stewards of its natural resources. Our efforts are guided by the belief that the use of parks and exposure to natural environments enhance society's health and quality of life.
HURON RIVER WATERSHED COUNCIL The mission of HRWC is "to inspire attitudes, behaviors, and economies that protect, rehabilitate, and sustain the Huron River system." They achieve this mission through stream monitoring, education, pollution preventing, tourism, and protecting drinking water quality.
HURON VALLEY SIERRA CLUB is a non-profit, member-supported, public interest organization that promotes conservation of the natural environment by influencing public policy decisions–legislative, administrative, legal, and electoral. The Huron Valley Group is part of the Michigan Chapter of the Sierra Club, which includes all of Michigan. The Huron Valley Group itself includes most of the Huron River watershed, including Washtenaw, Lenawee, and Monroe counties.
THE JAMES AND GRACE LEE BOGGS CENTER TO NURTURE COMMUNITY LEADERSHIP The mission of the Center is to nurture the transformational leadership capacities of individuals and organizations committed to creating productive, sustainable, ecologically responsible, and just communities. Through local, national and international networks of activists, artists and intellectuals the Center fosters new ways of living, being and thinking to face the challenges of the 21st century.
LESLIE SCIENCE AND NATURE CENTER LSNC enables individuals and communities throughout Southeastern Michigan to establish lifelong connections with the natural world and encourages efforts to support and protect it for future generations.  They support school-based experiential learning opportunities, like Annie's Big Nature Lesson.
MATRIX THEATRE COMPANY The Matrix Theatre Company partners with SEMIS Coalition schools to strengthen student understanding of environmental science using a school-based arts integration program, called STEAM.
MICHIGAN AEROSPACE AND SPRINGMATTER Michigan Aerospace Corporation (MAC) offers advanced engineering and innovative information products, including remote sensing, intelligent systems, and software solutions for space, air, and earth-bound applications. From the beginning, we've developed atmospheric measurement systems for aerospace clientele, but we are dedicated to applying these same technologies and expertise to solving problems that are a little closer to home, including clean energy, water management, and early detection of disease.As part of the Springmatter umbrella, MAC is dedicated to helping innovators and companies bring their ideas to life. We benefit from our origins in and continued collaborations with the University of Michigan.
MICHIGAN DEPARTMENT OF NATURAL RESOURCES AND THE ENVIRONMENT – MICHIGAN ENVIRONMENTAL EDUCATION CURRICULUM SUPPORT (MEECS) MEECS contains seven Michigan-based content areas, around issues like land use and water quality, including data support and inquiry-based lessons. Several SEMIS Coalition staff are qualified to coach teachers in these curriculum areas, and the workshops and materials are available for interested teachers.
MICHIGAN NATURAL FEATURES INVENTORY To guide the conservation of Michigan's biodiversity by providing the highest quality scientific expertise and information. To be the authoritative source of information on biodiversity that is widely used to conserve Michigan's unique natural heritage for current and future generations.
MICHIGAN SEA GRANT A cooperative program of the University of Michigan (UM) and Michigan State University (MSU), is part of the National Sea Grant College Program. The UM School for Environment and Sustainability and the MSU Extension Greening Institute provide matching funds to carry out programs in Michigan. Michigan Sea Grant is part of a national network of more than 30 university-based Sea Grant programs in coastal states across the country, administered through the National Oceanic and Atmospheric Administration (NOAA). Each Sea Grant program has three components: research, education and outreach.
Michigan Sea Grant supports a variety of research projects led by research teams based at universities in Michigan. The program also supports extension educators located in coastal communities and communications specialists that support public outreach. Education efforts highlight information about Michigan's coastal Great Lakes areas.
MICHIGAN STATE UNIVERSITY EXTENSION Through its public policy education and leadership trainings, MSU Extension informs residents about public policy issues and processes, develops leadership capacity in communities and strengthens community capacity to solve complex problems.
NATIONAL OCEANIC AND ATMOSPHERIC ADMINISTRATION NOAA's Mission: Science, Service, and Stewardship; To understand and predict changes in climate, weather, oceans, and coasts; To share that knowledge and information with others, and; To conserve and manage coastal and marine ecosystems and resources. NOAA partners with Earth Force and SEMIS.
NORTHEAST MICHIGAN GREAT LAKES STEWARDSHIP INITIATIVE NEMI GLSI is a regional network of education and community partners working to promote quality place-based or community-based education opportunities in northeast Michigan for the benefit of our youth, our community, and our environment.
PEOPLE IN EDUCATION is a digital media arts program committed to humanizing schooling by facilitating space for connection, curiosity and reflection. We are a sponsored project of Allied Media Projects.
RIVERSIDE ART CENTER The Riverside Arts Center offers, promotes, and nurtures dynamic arts and cultural programs through arts education, performing arts, visual and fine arts activities that serve and engage the community in Ypsilanti, Washtenaw County, and the surrounding area.
UNIVERSITY OF MICHIGAN – DEARBORN, ENVIRONMENTAL INTERPRETIVE CENTER The EIC is a University of Michigan-Dearborn facility that promotes environmental sustainability through community education and scientific research. The Center is the gateway to the 300-acre Environmental Study Area available to university students, school groups, and the public.
THE UNIVERSITY OF WISCONSIN-MADISON, SCHOOL OF HUMAN ECOLOGY, DEPARTMENT OF CIVIL SOCIETY AND COMMUNITY STUDIES The Department of Civil Society and Community Studies in the School of Human Ecology at the University of Wisconsin Madison conducts research and service in collaboration with community and nonprofit organizations. The Department houses the Center for Community and Nonprofit Studies (CommNS), through which university and community stakeholders collaborate to understand and strengthen the nonprofit sector.
WASHTENAW COUNTY WATER RESOURCES COMMISSIONER Our staff includes professionals in the fields of stormwater system operations, public administration, financing, accounting, drain special assessing, engineering, construction management, environmental planning, geographic information system technology, and more.
WE ARE THE FOREST  A place-based, experiential  learning platform. We inspire students to connect with Nature, while learning inter-disciplinary skills in environmental stewardship, science, technology, engineering, arts and math.
Our Past Partners
ANN ARBOR SUBARU
BROADSIDE PRESS
CORPORATION FOR A SKILLED WORKFORCE
DETROIT BLACK COMMUNITY FOOD SECURITY NETWORK
DETROIT FOOD AND ENTREPRENEURSHIP ACADEMY
DETROIT SIERRA CLUB
DISTRIBUTED POWER
ECOLOGY CENTER
FRIENDS OF THE ROUGE
GREAT LAKES BIONEERS DETROIT
GREAT LAKES ENVIRONMENTAL LAW CENTER
HUSH HOUSE
JEN EASTRIDGE – COMMUNITY CONSULTANT
JANET KAUFFMAN – COMMUNITY CONSULTANT
JOE REILEY – COMMUNITY CONSULTANT
MICHIGAN COALITION OF ESSENTIAL SCHOOLS
MICHIGAN NATURE CONSERVANCY
NATURAL AREAS PRESERVATION
NEIGHBORS BUILDING BRIGHTMOORE
PENN STATE UNIVERSITY
PITTSFIELD TOWNSHIP
PUBLIC ARTS WORKZ
RAP FOR FOOD
ROBERTO CLEMENTE STUDENT DEVELOPMENT CENTER, ANN ARBOR PUBLIC SCHOOLS
RIVER RAISIN INSTITUTE
SEAHOLM HIGH SCHOOL
SOUHAGEN HIGH SCHOOL
SOUTHWEST DETROIT ENVIRONMENTAL VISION
THE ORGANIZATION FOR BAT CONSERVATION
Funders
Current Funders
The Bay and Paul Foundation
Eastern Michigan University
Great Lakes Fishery Trust 
Great Lakes Stewardship Initiative
Michigan MiSTEM Advisory Council
National Science Foundation (via University of Wisconsin)
National Oceanic and Atmospheric Administration (B-WET)
National Oceanic and Atmospheric Administration (Environmental Literacy) (via University of Michigan)
NoVo Foundation
UPS Foundation
Past Funders
The Community Foundation of Southeast Michigan (via EMEAC)
The Cook Family Foundation
The Environmental Protection Agency (via the Great Lakes Stewardship Initiative)
Great Lakes Fishery Trust (via Detroit Public Television)
The HP Family Foundation
The James W. Porter Chair in Urban Education, EMU College of Education
National Endowment for the Arts (via Matrix Theatre Company)
National Oceanic and Atmospheric Administration (via Earth Force)
The Spencer Foundation (via University of Wisconsin)
Interested in becoming a member or partnering with SEMIS Coalition?