OUR MEMBERS
The SEMIS Coalition is dedicated to building impactful coalitions from grassroots to classrooms
The Southeast Michigan Stewardship Coalition (SEMIS Coalition) is fundamentally about making connections and building bridges. We coordinate relationships between K12 schools and districts, environmental and grassroots organizations, researchers and scientists, government agencies, universities and other regional partners.
Coalition Membership 
The SEMIS Coalition is a broad and growing partnership of schools, educators and community leaders. The primary requirements for membership are active participation, collaborating with other members, and a commitment to transformative, Place-based Education. For cost-sharing descriptions and options, and information about scholarships or consulting please contact our Executive Director, Dr. Ethan Lowenstein by email. The SEMIS Coalition is committed to equity. Scholarships are available for teachers and schools. Priority will be given to schools with high percentages of students who qualify for free and reduced lunch

The SEMIS Coalition creates powerful connections between educators, schools and community partners which support the opportunities for placed based inquiry to occur.
Member Benefits
Schools work with SEMIS Coalition staff to design a professional development program that aligns with specific school goals and systems, and that builds on the existing strengths of the school and its community. This program usually includes:
assistance in forming community partnerships
participation of a group of teachers and administrators in the SEMIS Coalition's Annual Professional Learning Series
leadership coaching and support through on-site and virtual support from SEMIS Coalition coaches
The opportunity to be part of a coalition of schools, community partners, and university educators in Southeast Michigan working on common social and ecological problems
Access to our network of over 30 schools and 35 community partner organizations
Attendance and participation in the SEMIS Coalition Annual Community Forum and end-of-year celebration where students showcase their work for the broader Community
Training and curriculum materials in SEMIS Coalition supported curricula
The opportunity to form safe, trusting, caring, and supportive relationships with a community of passionate and knowledgeable educators who are using a Place- and Community-Based Learning approach and integrating Social-Emotional Learning with inquiry-based academic content
Being part of the SEMIS Coalition has helped renew my faith in the power of grass roots solutions.
Schools and SEMIS Coalition staff work together to assess the readiness of the school to be a SEMIS Coalition School.
School and SEMIS Coalition staff "map-backwards" from 3-year goals and develop an outline of a professional development and school support plan.
Relevant community partners are contacted as school projects start to take shape with SEMIS Coalition network and knowledge of expert community-based organizations.
SEMIS staff and the school reflect on successes and challenges and adapt based on emerging needs.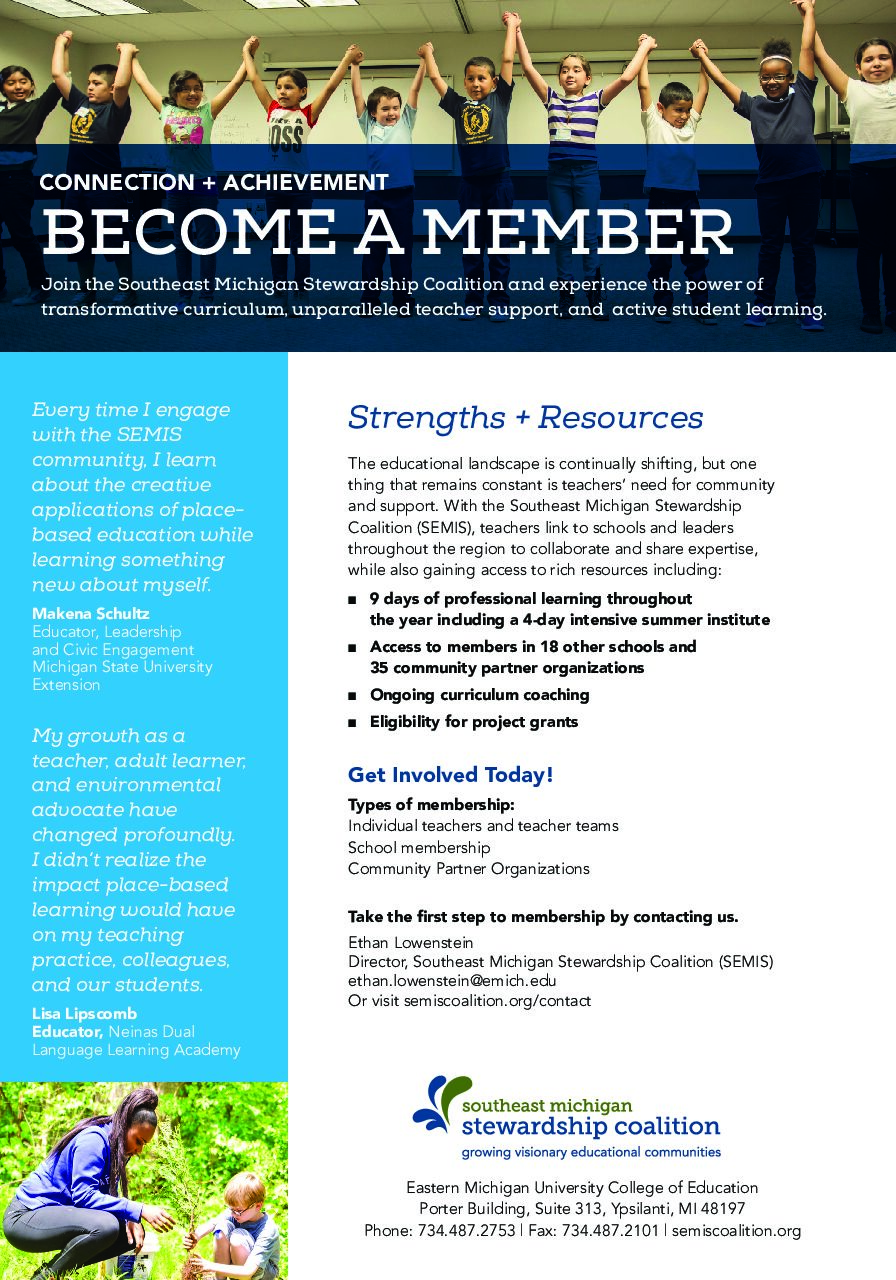 Interested in joining a SEMIS Coaliton professional learning event?