BECOME A MEMBER
Become a champion for place-based learning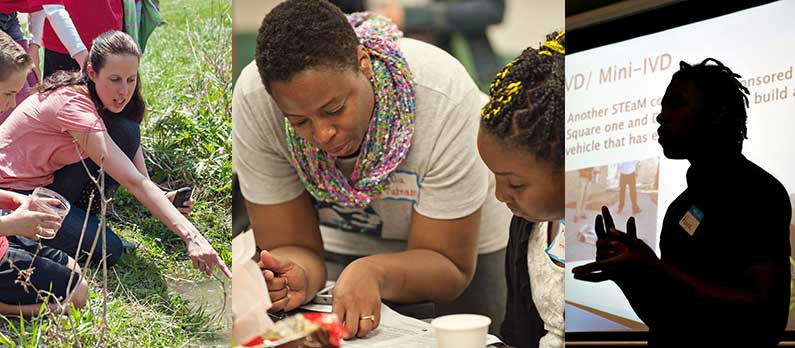 The Southeast Michigan Stewardship Coalition (SEMIS Coalition) is a broad and growing partnership of schools, educators and community leaders. The primary requirements for membership are active participation, collaborating with other members, and a commitment to transformative, Place-based Education.
For cost-sharing descriptions and options, and information about scholarships or consulting please contact our director, Ethan Lowenstein by email at elowenstein@emich.edu. The SEMIS Coalition is committed to equity. Scholarships are available for teachers and schools.
Member Benefits 
Schools work with SEMIS Coalition staff to design a professional development program that aligns with specific school goals and systems, and that builds on the existing strengths of the school and its community. This program usually includes:
assistance in forming community partnerships

participation of a group of teachers and administrators in the SEMIS Coalition's Annual Professional Learning Series

leadership coaching and support through on-site and virtual support from SEMIS Coalition coaches

The opportunity to be part of a coalition of schools, community partners, and university educators in Southeast Michigan working on common social and ecological problems.
Access to our network of over 30 schools and 35 community partner organizations
Attendance and participation in the SEMIS Coalition Annual Community Forum and end-of-year celebration where students showcase their work for the broader Community.
Training and curriculum materials in SEMIS Coalition supported curricula.
The opportunity to form safe, trusting, caring, and supportive relationships with a community of passionate and knowledgeable educators who are using a Place- and Community-Based Learning approach and integrating Social-Emotional Learning with inquiry-based academic content.
Exploratory Membership
Teachers/school leaders who are interested in joining the Coalition should attend our Annual Community Forum at Eastern Michigan University held each year at the end of April or beginning of May. This year's Community Forum will be on May 16, 2021. There is no charge for attendance. Interested teachers/school leaders may also attend a day of SEMIS PD at a $25 registration cost for the day.
Community Partners
Community partners have a special role to play in SEMIS Coalition, helping both individual school projects get off the ground as well as supporting professional learning days with expertise in everything from civic engagement and water quality to place-based history and community tours.
The SEMIS Coalition does not follow a one-size-fits-all "implementation" approach with its partners. Rather, it engages partners as learners within a reflective and caring community, helps them develop deep, trusting, and transformative relationships with each other, and provides the support they need to both transform their own organizations over time, and operate outside the normal boundaries of their institutional structures to work toward a broad and inclusive civic and ethical vision.
Partners can join SEMIS Coalition through a number of means, but primarily through connection to relevant place-based expertise needed by the coalition members.  Many long-term community partners started participating through Community Partner Grants with schools or through SEMIS Coalition staff outreach on behalf of partner schools.
Over the years, we've observed that those that are able to engage in transformational coalition building and the deepest partnerships with schools, do so by attending our yearly professional development series as learners.
"I view community with a new set of eyes. My students have become more aware of their community through SEMIS Coalition partnerships."
4 steps to school memberships
Schools and SEMIS Coalition staff work together to assess the readiness of the school to be a SEMIS Coalition School.
School and SEMIS Coalition staff "map-backwards" from 3-year goals and develop an outline of a professional development and school support plan.
Relevant community partners are contacted as school projects start to take shape with SEMIS Coalition network and knowledge of expert community-based organizations.
SEMIS staff and the school reflect on successes and challenges and adapt based on emerging needs.
Interested in joining a SEMIS Coaliton professional learning event?