OUR MEMBERS
SEMIS Coalition is dedicated to building impactful coalitions
from grassroots to classrooms

The Southeast Michigan Education Coalition (SEMIS Coalition) is fundamentally about making connections and building bridges. We coordinate relationships between k12 schools and districts, government agencies, environmental and grassroots organizations, researchers, universities and area businesses.
One of the core elements of our mission is coalition building—facilitating connections that unite educators, activists, organizations, businesses, and youth who are dedicated to transforming education and protecting the future our human and natural commons. Our work is empowered when we learn from each other and grow from a place of shared energy and insight.
Coalition building in schools
When school administrators, teachers and students become members of the SEMIS Coalition, they have access to the resources and fellowship of all of our partnering schools and community organizations through sustained professional development, networking opportunities, our website, and other shared public forums.
In addition, teachers, administrators and students have the opportunity to network statewide with other teachers and community organizations as participants in the Great Lakes Stewardship Initiative (GLSI).
SEMIS Coalition also provides ongoing support to help teachers and students evaluate and communicate their work out to the local community, the region, and the state.
What do SEMIS schools do? Each school in the SEMIS Coalition involves a team of teachers as a professional learning community within the school. Teacher teams engage in sustained professional development throughout the school year and in the summer during our annual Summer Institute.
Coalition Community Partnerships include organizations across Southeast Michigan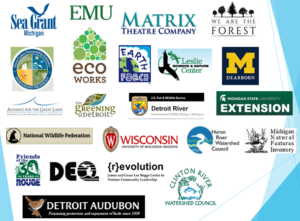 "SEMIS has a community vibe. We are a family! We work together to problem solve."
-Amy Lazarowicz