BECOME A MEMBER
Become a champion for place-based learning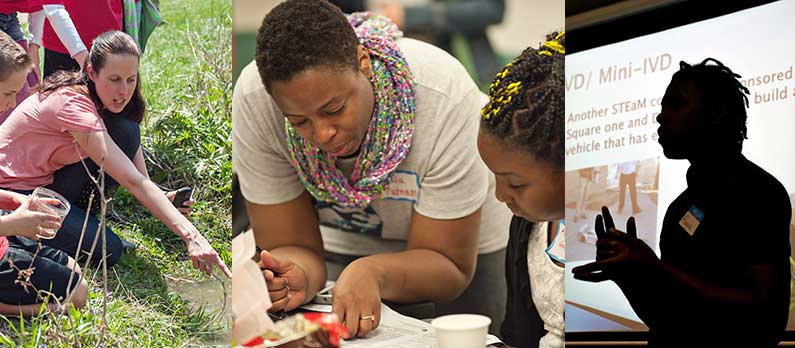 The Southeast Michigan Stewardship Coalition (SEMIS Coalition) is a broad and growing partnership of schools, educators and community leaders. The primary requirements for membership are active participation, collaborating with other members, and a commitment to transformative, place-based education.
SEMIS Coalition Schools, educators and partners are using place-based learning as a framework for their school and as an approach to whole-school instructional change. Coalition members use this approach to help create coherence and continuity between their mission, practices, and state requirements.
Schools work with SEMIS Coalition staff to design a professional development program that aligns with specific school goals and systems, and that builds on the existing strengths of the school and its community. This program usually includes:
assistance in forming community partnerships
participation of a group of teachers and administrators in the SEMIS Coalition's 9-day PD sequence
leadership coaching and support through on-site and virtual support from SEMIS Coalition coaches
Community partners have a special role to play in SEMIS Coalition, helping both individual school projects get off the ground as well as supporting professional learning days with expertise in everything from civic engagement and water quality to place-based history and community tours.
Partners can join SEMIS Coalition through a number of means, but primarily through connection to relevant place-based expertise needed by the coalition members.  Many long-term community partners started participating through Community Partner Grants with schools or through SEMIS Coalition staff outreach on behalf of partner schools.
Over the years, we've observed that those that are able to engage in transformational coalition building and the deepest partnerships with schools, do so by attending our yearly professional development series as learners.
"I view community with a new set of eyes. My students have become more aware of their community through SEMIS Coalition partnerships."
June A. Clora
4 steps to school memberships
Schools and SEMIS Coalition staff work together to assess the readiness of the school to be a SEMIS Coalition School.
School and SEMIS Coalition staff "map-backwards" from 3-year goals and develop an outline of a professional development and school support plan.
The SEMIS Coalition is introduced and the plan is presented to the school's School Board (or other equivalent governance body).
Relevant community partners are contacted as school projects start to take shape with SEMIS Coalition network and knowledge of expert community-based organizations.